Mobile/WhatsApp:+91-9898520366
|
Email Us: info@pearlshaving.com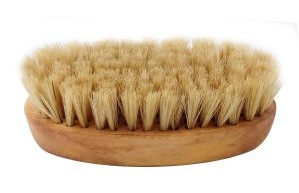 Our this grooming product is highly demanded in the market due to its unique design, softness and effective result. They are made from high quality raw material to provide special feel for your grooming needs. We have designed this brush with such a unique user friendly design that it is proved to be the best beard brush for men. This premium quality product is available as per customer requirement at best discounted prices.
For our brush lovers we are excited to offer Synthetic hair beard brush.
The surface of each bristle is scaly and draws dust and excess product from the hair as you use it.
The bristles also stimulates the natural oils (sebum) present in the scalp, and draws them along the hair shafts, essential for keeping hair clean, healthy, shiny, and protected.
Size: 11cm x 6cm x 1.5cm
Made from Synthetic hair–Smooth Beard Brush uses Black Wild Boar bristle to ensure you receive great results when it comes to shaping, styling and simply grooming your facial hair. This brush contains no synthetic filler bristles that could detach in your beard or irritate the skin underneath. Easily Smooths & Styles Hair.
This brush makes it easy to get the beard style you want by smoothing your facial hair and stimulating the skin underneath. By reaching the skin, the brush encourages the distribution of natural oils that are produced to keep your beard feeling and looking healthy when it might otherwise tend to look dull and lifeless. Made with Tough Bristles to Untangle.
The bristles on Smooth Viking's Beard Brush are firm enough to tackle even the toughest of tangles in your facial hair. With this comb, you don't have to worry about getting tough and uncomfortable knots or having a beard that looks unkempt and messy any longer. Clears Residue & Dandruff.
You don't want to be caught in public with crumbs, dirt or anything else stuck in your facial hair, and with this brush you don't have to worry about that. The tough bristles also massage the skin on your face and clear away any dandruff or flaking that could be caused by dryness or irritation. Works for All Beard Styles.
Smooth Beard Brush works how you want it, regardless of whether your style is vintage, modern, classic or anything else, you'll be able to easily achieve it with this styling brush. It can be used to evenly distribute your choice of beard wax to get the style you want, or you can just use it to maintain and regularly groom your more natural look.
Made in INDIA
Excellent design and durable
Best quality
Nice product packaging.
Our comb is easy to carry because of its portable size.
Customized order option
Perfect gift option for beard men.
Free home delivery
Provide free home delivery for all product over $100
Quality Products
We ensure the product quality that is our main goal
3 Days Return
Return product within 3 days for any product you buy
Online Support
We ensure the product quality that you can trust easily